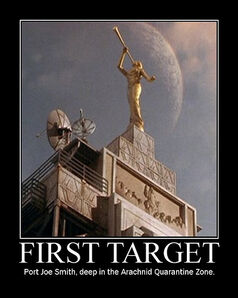 Port Joseph Smith is the capital and largest city of the Deseret system. It was founded in 2165 by Mormon Fundamentalists who wanted to start a colony world where they could practice their polygamy and theocracy in peace. Devastated in a Bug invasion in 2194, many of the original colonists were killed. Subsequent waves of settlement by non-Mormons have led to the ending of outright Theocracy, but polygamy remains legal and widely practiced among the 10 percent mormon minority.
Community content is available under
CC-BY-SA
unless otherwise noted.