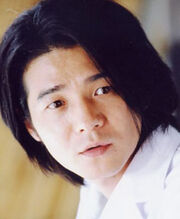 Duke Yasuyama Akihiro (安山昭宏, born January 24, 2221) is a forces mage who is both Duke of
New Tokyo
and the current head of
Anshin Heavy Industries
and
House Yasuyama
.
Early Life
Edit
The son of Hikaru and Akiko Yasuyama, Akihiro was brought up in the Eastern Bloc on Showa with his younger brother Akira. He attended college on Khmer, where he narrowly survived witnessing the escape of Alistar Dimiye's unit from the Eastern Bloc. A borderline genius and definite workaholic, Akihiro's master's thesis was the basis for the Eastern Bloc's third generation PAGD reactors. He managed to finish a PhD not long after his twenty-third birthday, and he married Lung Man-wen shortly afterward. Their son Takamitsu was born early the following year (2245), and their daughter Chian-fang was born in 2250.
Rising Business Magnate and Humanitarian
Edit
By 2249, Akihiro was already a well-recognized scientist. He used his wide recognition and family resources to call attention to several humanitarian issues, particularly dealing with poverty within the Eastern Bloc, but also starting funds to address similar issues in the Federation, especially on New Tokyo. Hikaru announced that same year that official ownership and management of Anshin Heavy Industries would be handed over to his son by the year 2251, which allowed Anshin to build facilities on New Tokyo despite being an Eastern Bloc-based company.
Loss of Family
Edit
Although the exact circumstances are not entirely clear, Akihiro was asked by his family and urged by his wife to personally inspect Anshin's new facilities on New Tokyo a mere month before the Vin Shriak basically wiped out the entire Eastern Bloc. Ostensibly, he lost his wife, his daughter, both of his parents, his grandfather Akihiko, and his grandmother Hikari. His brother Akira had reportedly been killed in the nuclear detonation that destroyed Alpha Epsilon. Although he still had his son, Akihiro became something of a recluse after the Holy War.
Community content is available under
CC-BY-SA
unless otherwise noted.