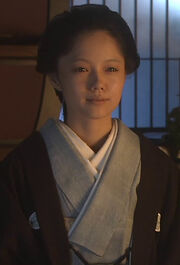 Yasuyama Akiko (安山晶子, born January 27, 2199) is a time mage and the wife of
Hikaru
and mother of
Akihiro
and
Akira Yasuyama
. She is the grandmother of
Yasuyama Takamitsu
.
Early Life
Edit
She was born into a military family, and her father Eikichi was a prominent figure in the Imperial Navy of the Eastern Bloc. She had hoped to escape from having to deal so much with military matters when she married the son of prominent politician Yasuyama Akihiko in 2220, but by the time she gave birth to her second son in 2225, it became clear to her that her husband Hikaru had set his sights on the arms industry. Her younger brother Suguru eventually followed in his father's footsteps, joining the Imperial Navy around this time.
Third Civil War
Edit
Akiko watched over her family very closely. Her younger son joined the Imperial Army just in time to serve in the 3rd Civil War, while her older son quickly became recognized as one of the most brilliant scientists in the Eastern Bloc. Although her father eventually retired, her brother Suguru had risen to the rank of captain by this time and served with distinction during the war. Akiko, together with her mother-in-law, quickly saw which way the wind would blow, however, and focused on damage control for their families, particularly finding a way to extract Akira the Younger from the nuclear detonation that destroyed Alpha Epsilon.
Vin Shriak Holy War
Edit
Even during the midst of the 3rd Civil War, Akiko's mother-in-law Hikari began to see the coming storm of the Vin Shriak Holy War. Together, the two time mages began peering further and further into the future, exploring alternate timelines to try to determine which path would best suit their family. Knowing that the Vin Shriak would wipe the Eastern Bloc off of the map, Akiko tried to make the necessary arrangements to save her brother and his family, but Suguru, now an admiral, and his son Hikaru, who joined the Imperial Navy at 16, insisted on engaging the Vin Shriak. Akiko was only able to convince her niece Ryouko to come with the Yasuyama family.
Community content is available under
CC-BY-SA
unless otherwise noted.