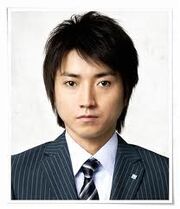 Yasuyama Takamitsu (安山高光, born January 29, 2245) is a forces mage, the son of Yasuyama Akihiro, and presumed heir to Anshin Heavy Industries. Upon graduating with a degree in physics from Aoyama Gakuin University's New Tokyo campus in 2264, he was quickly appointed a position in research and development at the family company.
Takamitsu, often shortened by friends and family to Taka, was born to a Japanese father, but his mother Lung Man-wen was of Taiwanese descent. When the Vin Shriak essentially wiped out the entire Eastern Bloc, his father was with him on a business and sightseeing trip to New Tokyo with his friend Shinsuke. His mother, however, was still on Showa with his infant sister Chian-fang. When the Eastern Bloc fell, most of Taka's family was killed, and his father essentially left Taka under the care of his Korean uncle Kim Myeong-song and Taiwanese aunt Lung Xiao-han, Man-wen's sister. At Akihiro's request, Myeong-song and Xiao-han saw to it that Taka was brought up in a tri-lingual environment, speaking Chinese, Japanese, and Korean. Along with Myeong-song's niece Ji-yoon and daughter Wen, Taka also stayed very close to Shinsuke. The four essentially grew up together.
Although not quite as brilliant as his father, Taka managed to graduate early, despite his fairly active social life. However, it was a source of no small amount of shame that Taka did not carry on the long family tradition of force magick. Although Wen and Shinsuke had awakened in their teenage years and done their obligatory service in the Tech Infantry, and even Ji-yoon suddenly awakened shortly before the Caal Invasion, Taka did not.
Community content is available under
CC-BY-SA
unless otherwise noted.